EP Aeration's systems and components have been used in a variety of "special" applications. Our ozone generators and delivery systems are very effective at removing dissolved minerals such as iron, manganese and hydrogen sulfide (rotten egg smell) from water. Aside from water treatment applications, our aeration tubing is used in some rather artistic applications as well. Whether it's tank aeration, creating a bubble curtain to prevent upstream migration of monk seals, or creating a stunning image out of bubbles, the uses for our equipment is only limited by your imagination.
Tank Aeration:
EP Aeration designs tank aeration systems for a variety of applications including removal of iron, manganese and hydrogen sulfide in drinking water and irrigation tanks. Our systems are also used as a mixer to eliminate "dead zones" that are the source of carcinogenic compounds such as Trihalomethanes and Haloacetic Acids that result from chlorine disinfection.

Designed to remove iron and manganese from irrigation water at a citrus grove, this system consists of a single 1/3rd horsepower compressor, 2 gram/hr. ozone generator, and fifty feet of our triple cut tubing. The valved and conical shaped bottoms of the two 2500 gallon contact tanks are perfect for collecting and disposing of precipitate.
Henkels & McCoy – USS Sea Wolf: Groton, CT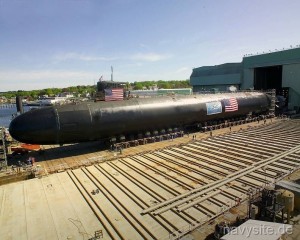 Henkels & McCoy designed and built the Cathodic Protection System for both the interior and exterior critical system components of the USS Seawolf, including crane cells and support pilings. The by-product of that process creates chlorine in the docking basin. Because the Seawolf is Docked at the Electric Motor Boat Launch Facility in Groton, Connecticut, the system is exposed to the Thames River and Atlantic Ocean. Henkels & McCoy commissioned EP Aeration to design an aeration system in the 600′ long x 100′ wide x 50′ deep basin to oxidize and remove chlorine from the water before it is discharged into the Thames River and Atlantic Ocean.
Halliburton North Campus: Houston, TX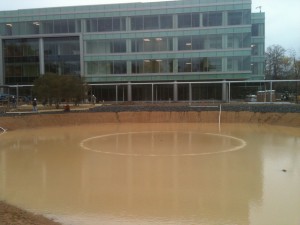 The landscape contractors that installed the landscaping at Halliburton North Campus called upon EP Aeration to see out the vision of the architect by producing two "bubble rings", 50′ in diameter each. The purpose of the rings was to create an intriguing aesthetic to be viewed from the corporate offices as well as circulate and aerate these water features that double as stormwater retention ponds. EP Aeration designed the system and installed it on a stormy November day in 2011.
Short Hills Mall: Short Hills, NJ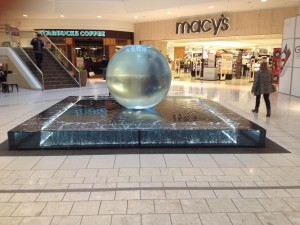 SAI Fountains designed this beautiful indoor water feature in the Short Hills Mall. EP Aeration supplied the materials and consultation to create the consistent line of bubbles that surrounds the basin. Color changing LED lighting runs by side of the aeration tubing to illuminate the bubbles. Colors are changed to fit the mood of the season. The bubbles rising vertically against the backdrop of cascading water gives a juxtaposed aesthetic that is mesmerizing. Click the following link for a short video of this water feature. Short Hills Mall Video
Call today to find out if and how E P Aeration can help you with your own special application.