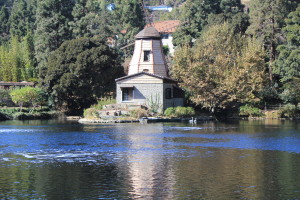 After several years of consultation and design modifications, EP Aeration recently installed a lake aeration system at the Self Realization Fellowship – Lake Shrine Temple, in Pacific Palisades. Surrounded by lush landscaping and the Mahatma Ghandi World Peace Memorial, 2.5 acre Lake Shrine is the focal point of this beautiful property.
Despite employing pond aeration, Lake Shrine has suffered from algae blooms and generally poor water quality for several years. It was discovered that the existing aeration system was undersized and producing course bubbles which were not capable of providing adequate mixing. EP Aeration designed and installed an aeration system consisting of four of our 4′ diameter, fine-bubble air diffusers, each with a dedicated 1/3rd horsepower air compressor to provide 8 turnovers per day.
It was a pleasure working with our gracious hosts at Self Realization Fellowship and we're to be a part of restoring this lake to its former majesty.